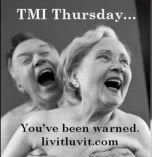 OK, it's time for TMI Thursday! Although, seriously, this blog is kind of turning in to TMI Every Day. Apparently, I have no shame...
So this morning, I decided to particpate in a little experiment. Upon waking, I jumped on the scale and weighed myself (as I do pert near every day because I am sickly obsessed with my weight). Then, I...um...went #2 and weighed myself again. The verdict?
Sans poo-poo, I weighed
1.3 lbs. less
than before I hit the toilet.
I always knew I was full of shit.