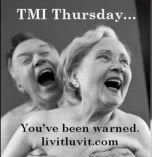 Heard somewhere in Orange County, California, Wednesday, 9:45pm…
HER: Hey.
HIM: Yeah?
HER: I'm horny.
HIM: That's nice.
HER: Wanna help me out with that?
HIM: Not right at this particular moment, no.
HER: Why not?
HIM: Cuz I'm working on this email that I've been putting off writing for about a week now.
HER: How about when you're done? Can you help me out then?
HIM: Eh, I don't know. We'll see.
Who do I see about trading in my 49 year-old for two 25 year-olds?