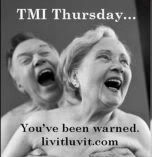 Yesterday, The Old Man & I were cockblocked by the maintenance man.
(Really, do I even need to say anything more than that? Should I just end here, on a high note?)
The Old Man, lucky sod, has every Wednesday off (of course, he works every Saturday in exchange so really he is far from lucky, but that does not keep me from being envious every Wednesday morning when I have to get out of bed and he doesn't). So yesterday, as I worked diligently at my desk in my office at Friendly Flower Place, I received a text message instructing me to come home for lunch. Well, in truth I was told to "come home for a poke". I think lunch was incidental to the plan.
My reply was delightfully dirty and shall never be rebroadcast on the pages of this blog. Even on TMI Thursday.
Before I go on, allow me to explain that The Old Man and I have been in need of a new kitchen appliance for some time. Ours has been broken for over a week. We were assured by our rental office that a new one would be delivered on Friday.
Yes, you read that correctly –
Friday.
Now, normally, I would not complain about receiving something such as a sparkling new kitchen appliance two days earlier than expected. I wouldn't complain, that is, unless it is being delivered
while I'm sitting on my bed with no skirt on, getting comfy cozy with my old man.
Talk about a buzz kill.
The look on the old man's face when we heard the knock on the door was extremely comical though, I must say.