After an extended hiatus (and since it is 5:50pm, I am barely getting this posted in time), it is time once again for everybody's favorite - TMI Thursday!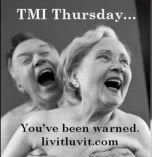 Heard somewhere in Orange County, CA, Wednesday evening, approx. 9:00pm:
HER: Are we going to have sex tonight?
HIM: *chuckles* Do you want to have sex tonight?
HER: Well, I just want to know before I put lotion on, cuz I know you prefer I don't have it on.
HIM: Well, I'd like to, but we don't have to have sex if you don't want to.
HER: Honestly? I'd rather not.
HIM: OK, that's fine.
(after long pause)
HIM: But are you going to write about
this
in your blog,
like you did that time I didn't want to have sex?
This is why it's never good for your old man to know where to find your blog.
Love you honey! :)